Home
Bootcamps
Online Programs
Competition Training
Personal Training
Class Schedule
Nutrition
Gallery
Blog
Shop
Forum
Recipes
Facebook
---
Leah is a very good personal trainer/boot camp instructor. She is knowledgable,motivational,and creative with her classes. I keeping going back to Leah because she has done more for me seeing her twice a week for a year, than going to a gym five days a week for 3 years. If you want the best you go to Leah! - Angela C
---
I came to Leah recovering from a back injury thinking I could never get back into a regular workout routine. Leah taught me how to strengthen my core in order to avoid more injury. Since working with Leah I have made a complete change in my life with my fitness! Leah is very professional and knowledgeable in her work. I have seen result I never thought I would see after my injury! I am still seeing Leah and highly recommend her services! - Luisa V
---
Leah is a creative and adaptable trainer who has a solid foundation of experience, knowledge, and rock solid technique. Her sessions were thoughtfully structured but never repetitive or boring. She also set a good example with her own exercise and nutrition habits, unlike many other trainers I have observed. I truly enjoyed training with Leah and would recommend her to anybody who wants to work hard, have fun, and enjoy the results.
---
---
---
Bootcamps are available in Kitchener/Waterloo at our full-time studio. We focus on strength and conditioning using a variety of equipment such as kettlebells, dumbbells, TRX, sandbags, med balls, bands, tires and bodyweight. Leah's bootcamps are safe and effective for all fitness levels....we generally do timed intervals so everyone works at their own pace. Exercise modifications are always available. All classes are co-ed.
Registration is on-going in Kitchener, so you can join any time. There are 3 different class packages available. Sessions do not need to be taken consecutively in Kitchener, we track attendance to keep track of your classes. Bootcamps also qualify for a discount for multiple services.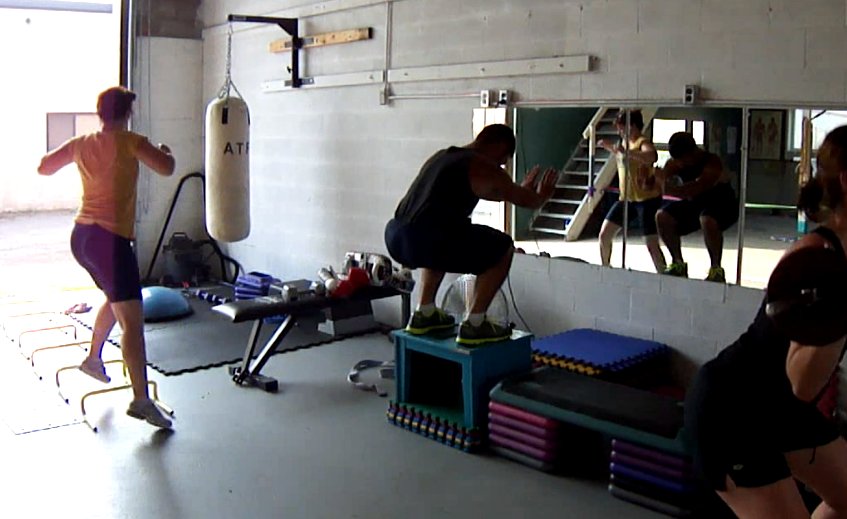 ---
About Leah
* Background in martial arts, including Karate, Muay Thai, and Grappling

* Competitive bodybuilder and figure athlete

* Bootcamp and metabolic condtioning training

* Fitness, Fine Art and Figure modeling

Leah specializes in building muscle, losing fat, working with women, bootcamps, core training, conditioning, shoulder rehab/prehab, low back pain rehab/prehab, nutrition and competition training.
Leah is a Certified Personal Trainer and Sports Nutritionist. With a background in martial arts and fitness competitions, Leah's training philosophy is well rounded, incorporating strength and conditioning for everyone from athletes seeking peak performance to moms looking to lose the baby weight.